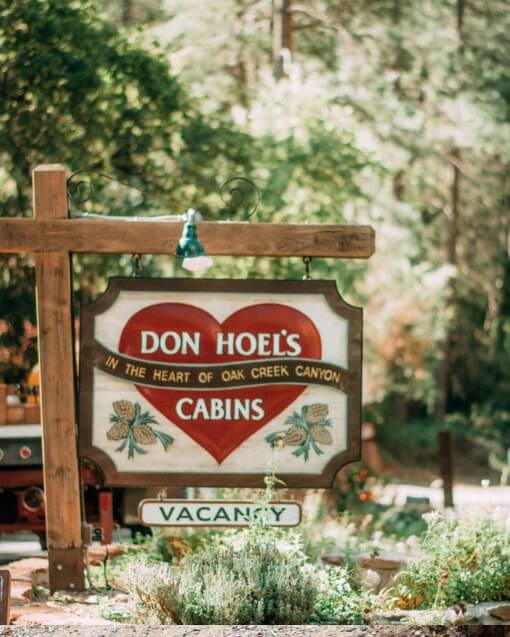 Historic Don Hoel's Cabins
Experience historic charm and wellness at Don Hoel's Cabins in Oak Creek Canyon, Sedona! 16 unique log cabins from the 1920's, private creek access, on-site coffee house, healthy room service and proximity to West Fork and Slide Rock make it an idyllic vacation destination.
Don Hoel's has more private creek access than any other property in Sedona. All guests may enjoy creek access during their stay. The water is crisp, clean and safe for swimming.
Don Hoel's Cabins are in the center of Oak Creek Canyon, offering a unique opportunity to stay in one of Arizona's traveled areas but be away from all the traffic and crowds in Sedona.
Cozy up in front of the fire in the comfort of your personal cabin. Many of our cabins are furnished with fireplaces for guests to enjoy.
Oak Creek Canyon Coffee House is located just steps away from the cabins. The cafe proudly serve fresh local espresso drinks and offer an assortment of snacks, beer and wine.
Our property offers cabins with fully equipped kitchens. Many kitchens come stocked with dishes, pots and pans. All cabins come with a coffee maker and complementary coffee.
Our property was created with the whole family in mind. All cabins are kid and pet friendly. We have large areas to run and play, and are close to Slide Rock and a number of nearby sites that are fun for the whole family.
The Perfect Weekend
We loved our stay here. The amenities were very thoughtfully done and I never expected to find this much isolation from the craziness that is 89A on summer weekends. We spent time at their private access to the creek and were the only ones there. The cabins were very clean and a perfect home for us and our dog. The food at the cafe was great too and a nice patio. Perfect weekend. We hope to be back soon.
Alexis Z.
Absolutely Beautiful
Well first of all the place is absolutely beautiful. It has its own access to the Oak Creek canyon stream. And the staff here is just amazing. If you go there you'll meet the hardest-working guy named Matty. he just makes you feel good about being there and does anything you need without question. Oh and I have to mention all the wild blackberries that grow around the creek area.
Matt B.
Great Family Escape
We stayed in cabin 15 with the grandkids, they loved it. The playground was right outside along with a volleyball court and picnic tables. No tv or wifi, we enjoyed the time outdoors, walking to the creek and the quiet. Slide rock is only a couple of miles away. We will definitely be back.
Lily S.
Lovely Creek
The location is fabulous, and everyone made us feel super welcome. The cabin was so comfortable and very clean. The fact that there was a common area where guests could sit and relax (the lawn) was a nice touch. The market and food availability was also nice. But the best park was the access to the lovely creek nearby. I plan to return if I can ever beat someone to it!
Jane E.
Reconnect to Nature
Amazing, beautiful nature. Beautiful little park for kids and adults to enjoy. My girls enjoyed it so much. Amazing place to disconnect and reconnect with nature. If you depend on Wi-Fi or reception be aware that you won't get any further than you are from the main cabin. Overall a great place!
Zeliko E.